Our 4 bars in 3Olympia Theatre received a beautiful renovation in 2015 & 2016, designed by Gwen Kenny and the team at Divine Designs.
Maureen's Bar
One of two bars on the Stalls level, the design for Maureen's Bar included both a functional and aesthetic upgrade. Retaining its sense of charm and character with minimum intervention. The bespoke lattice metalwork behind the bar, decorative cut wood screen panel in the ceiling, metal scroll sconces, decorative counter brackets, and turned wood posts are just some of the custom elements designed by Divine Design and made to fit the historic proportions and enhance the fine period details of the space.

It was important to everyone that the renovation of the bar was approved by Maureen Grant herself! Thankfully she loved the overhaul of her space.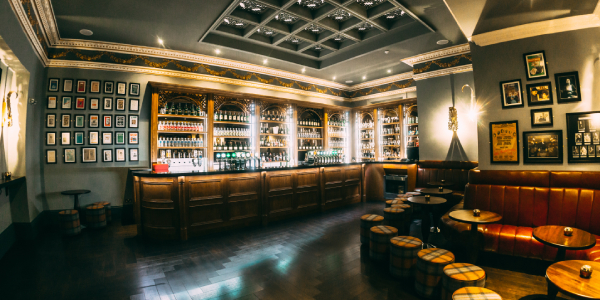 The Portrait Bar
The Portrait Bar on the Stalls level has an atmospheric interior with a stunning gallery of portraits by Barry McCall Photography. The lighting design was central to the enhancement of the bar's ambiance and the feature wall lights were custom made to a design inspired by the acanthus leaf motif found throughout the building. During the installation of the design, the period decorative plasterwork was carefully conserved.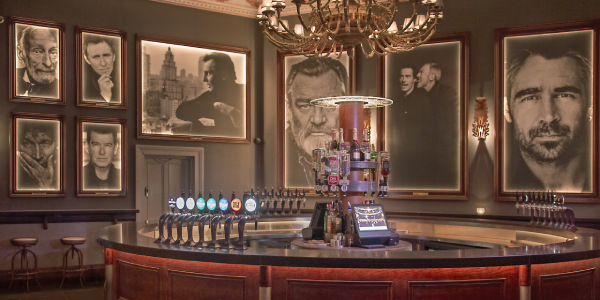 The Circle Bar
The Circle Bar resides on the first floor of 3Olympia Theatre and has its own distinct personality. A custom-made polished oak countertop with sumptuous leather upholstered frontage was installed. The doors were custom-designed with matching leather button padding. The decadent and tactile seating was finished in a crushed velvet with button-back detail and leather upholstery.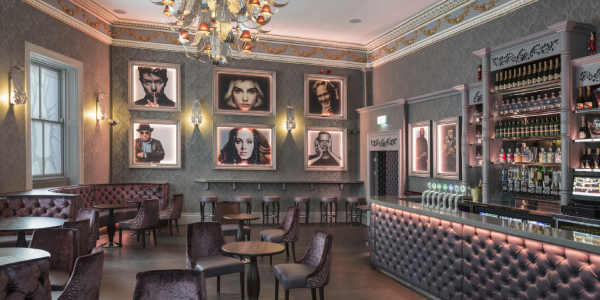 The Upper Circle Bar
The Upper Circle Bar is on the uppermost level of 3Olympia Theatre and has a feel of glamorous decadence. The Art Deco-inspired scheme for this room was achieved through the use of custom-designed glass panels and joinery, sculptures, and evocative lighting.